Buying a Dishwasher? Read this first.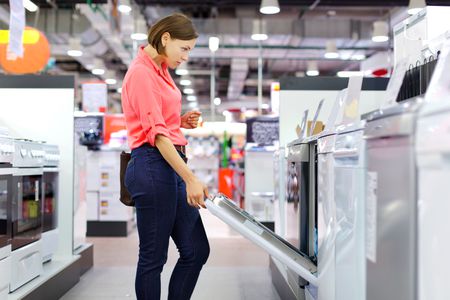 If you ever make up your mind to buy a dishwasher, you want to be sure to make the right choice in terms of the makes and functionality. Over the last 10 years in dealing with dishwasher repairs, we have encountered numerous issues that users face which usually lead to abandoning the dishwasher all-together. By the way, dishwashers have made our lives so convenient that it is hard to imagine the state of our kitchens and the amount of workload without them.
Whether you are thinking of purchasing a new dishwasher or looking to upgrade for a new one, it is good to know about the different options available for you. Having a good knowledge about types of dishwashers will help you select one that fits your kitchen and suits your requirements. 
Built-in Dishwashers
As the name implies, these dishwashers are designed to fit into your kitchen structure as opposed to looking like a standalone appliance. Generally, they are made to be fixed under the counter-top and function like one of the drawers. The exterior of a built-in dishwasher usually has a custom made front panel to match the color and texture of the rest of the cabinets, so it seamlessly fits in.
There are two main types of built-in dishwashers, such as fully integrated and semi-integrated dishwashers. In the fully integrated model, the control panels of the dishwasher are located at the top of the drawer so that they are not visible once closed. This way, it is hard to recognize the dishwasher when it is not in use. The semi-integrated dishwasher has its control panel on the outer surface of the door, making it convenient for you to operate them.
One important thing to note when purchasing an integrated dishwasher is to take the precise measurements of the space allocated for it so that you know the exact size to buy.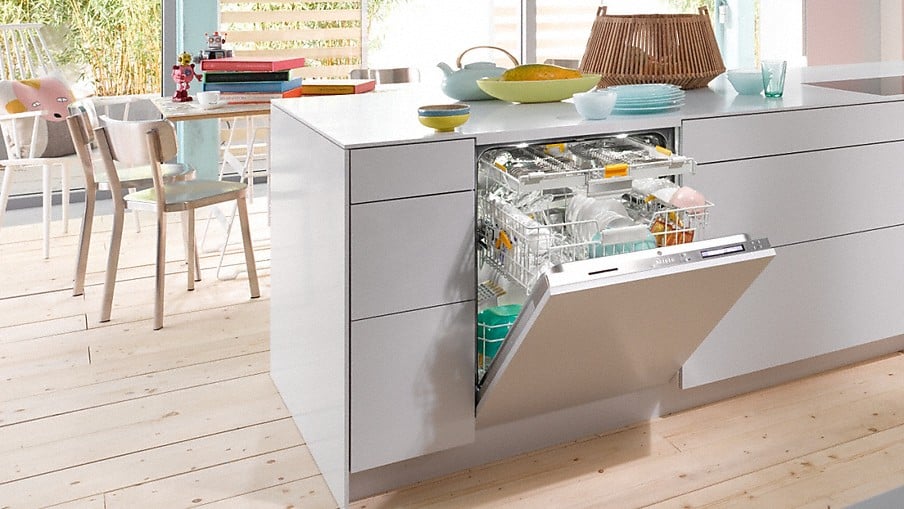 Advantages:
You can customize the dishwasher's appearance to fit your kitchen pantry cupboards.
2. Built-in dishwashers are known to save a lot of space.
3. These dishwashers need to be connected to the main plumbing system permanently. So, you don't have to worry about not being able to use the sink when it is operating.  
4. Low noise when operating since it's insulated by cabinet walls around.
5. A larger capacity capable of washing all the dishes at once.
Disadvantages:
Relatively expensive than other types of dishwashers
A significant cost of installation as the dishwasher needs to be connected to the main electric and plumbing systems
Portable Dishwashers
Unlike built-in dishwashers, these can be moved from one place to another easily. These dishwashers are ideal if you have an apartment or a house with a small kitchen space. They also come in handy for families who move out from one place to another very often. Portable dishwashers have wheels attached to them so you can roll them into storage space when not in use. You just have to connect it to the faucet of the kitchen sink directly or use an adapter if it doesn't fit.
If you are planning to buy a portable dishwasher, check out for the options available in terms of size and features. Since portable dishwashers operate as separate appliances, there will be a significant amount of noise when it is in operation. So, look out for models with noise controlled technologies and a size that fits well with your kitchen space.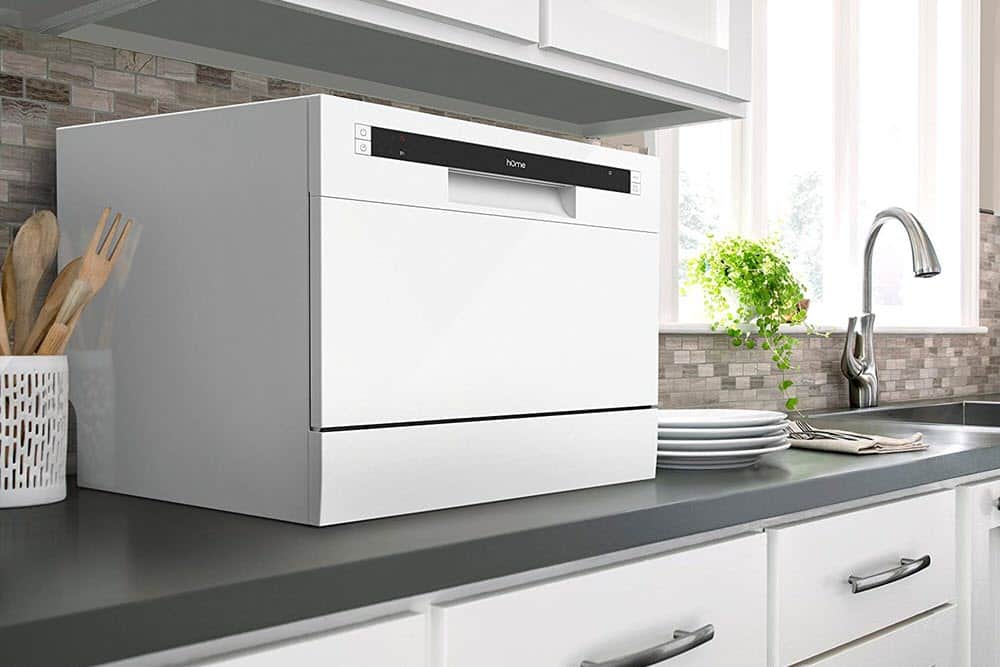 Advantages:
Ease of portability helps you save kitchen space.
More convenient and easy to set-up as it doesn't require complex plumbing and electric work.
Less expensive than built-in dishwashers.
Available in different sizes.
Disadvantages:
You won't be able to use the sink when the dishwasher is working
Some portable dishwashers are smaller in capacity and will only be able to wash half the load of a built-in dishwasher in a single cycle
Since portable dishwashers operate as a standalone unit, there will be significant noise when it's in operation unless you purchase a noise-controlled one
Require a space to store when it's not in use
Standard Dishwasher 
A standard dishwasher can accommodate 12 place settings. It's a practical choice for people with average dishwashing needs like one wash cycle per day. It's a cost-effective option especially for small families. The service plate is found beneath the door, making it convenient for maintenance and repair.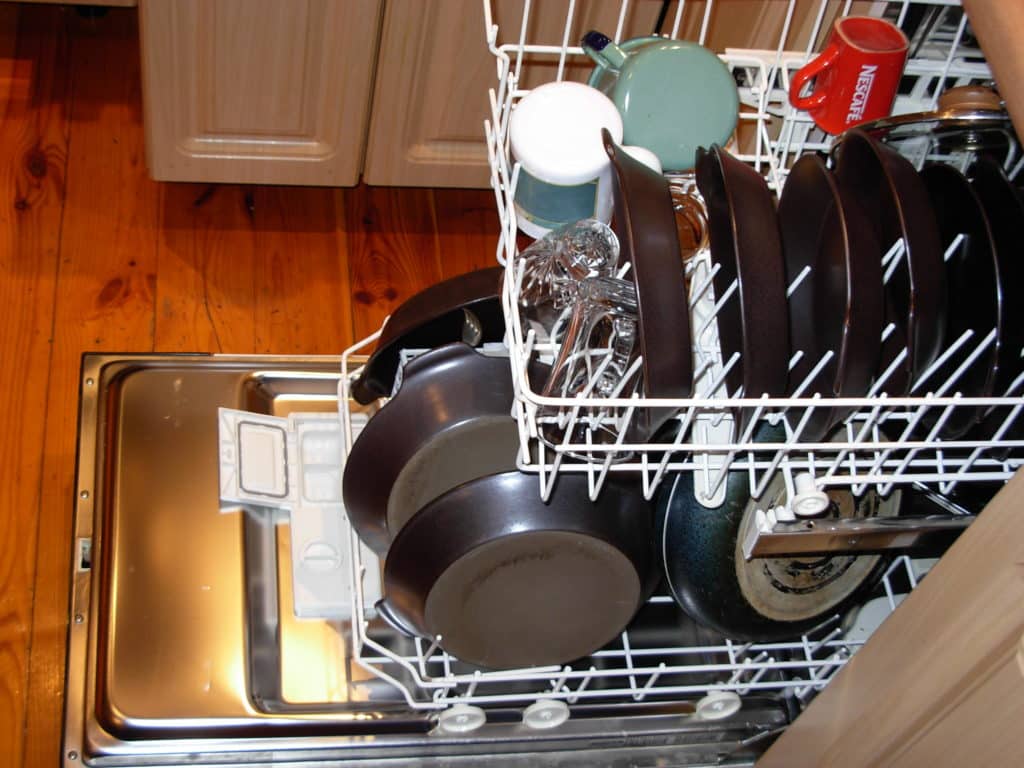 Advantages:
Cheaper than large models
It doesn't take up a lot of space.
It's easier to maintain than a large tall-tub dishwasher. 
It can hold small utensils and plates in place when the dishwasher is in operation. Racks in large dishwashers can cause smaller items to shift during wash cycles.
Easier to set-up and install
Disadvantages: 
The small space can only hold a limited amount of dishes. 
May not be able to hold large-sized cookware and utensils.
There's distinct noise emitted when the dishwasher is in operation.
The kick plate beneath uses space that could have been used to clean more dishes.
Brands We Like to Recommend
With so many options flooding the market, choosing the right dishwasher can be a tricky task. This is why you should narrow down your choices to brands that you can trust. You will most likely be provided with a warranty cover that may include parts replacement and dishwasher repair costs. The brands we recommend for you are:
Bosch
Bertazzoni
Frigidaire
General Electric (GE)
Jenn Air
Maytag
LG
Electrolux
KitchenAid
Samsung
Sears Appliances –Kenmore
Whirlpool 
AEG
Amana
Fisher & Paykel

Common Issues or Problems with Dishwashers
Here, we have carefully highlighted some of the most common problems anyone can come across with their dishwashers. A poorly functioning or broken down dishwasher can lower the efficiency and provide low-quality results. Having a good understanding of common problems associated with dishwashers will help you diagnose the issue earlier and check if you can get the appliance repair covered by the available warranty. 
Your dishwasher has a problem if you notice, 
Dishes don't come out clean after a wash cycle
Dishwasher doesn't turn on
Water doesn't get filled or pumped out of the dishwasher
Water leaks from the dishwasher
Dishwasher door doesn't latch
If your dishwasher is not working due to any of these problems, it is better to contact a professional dishwasher repair service to get it fixed. In most cases, issues can be fixed with a repair or dishwasher parts replacement.
Conclusion
Dishwashers are almost inevitable in many homes today. It does not matter the type that you have whether standard built-in, portable or even countertop dishwashers, getting the right one that fits your home and usage is very important. I have all those points above to let you make the right choice for your home or business. The reason for the recommended brand is because of many factors such as trustworthiness, warranty, durability, and support services that come with the purchase. Check these points out and if you ever encounter any issues with your dishwasher, do not throw in the towel, give us a call first. We will diagnose the issue and fix your dishwasher within a jiffy.